Integrated PT2 was created to deliver a high-quality health care service that is a culmination of over 20 years of experience within the NYC fitness industry and outpatient orthopedic physical therapy. Dr. Eric Munoz gained perspective, expert knowledge and innovation in the delivery of multiple models of physical therapy and fitness services while managing an outpatient orthopedic clinic and training though out NYC. Eric founded Integrated PT2 in 2012 as a part time business to deliver one on one personalized care with a holistic approach. At Integrated PT2 the client is at the center of each session. Empowering clients with solutions to their conditions whether recovering from acute injury, post op rehabilitation, managing a chronic condition or working towards a fitness goal is what Integrated PT2 delivers each session.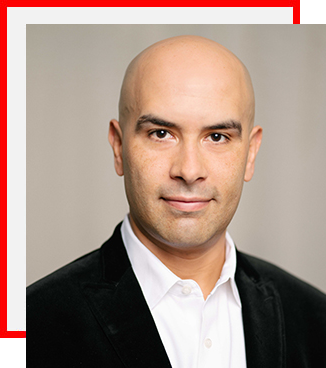 Eric Muñoz
PT, DPT, OCS, FRCms
Dr. Eric Muñoz is a native New Yorker who began his career in the late 1990's as a personal trainer, helping people attain personal fitness and wellness.
While Dr. Muñoz completed his undergraduate degree in Forensic Psychology at John Jay College, he began training at New York Sport Club where he quickly rose to the rank of Master Trainer. He then pursued a full-time career in private fitness training as he completed his post-graduate work and received a Doctorate of Physical Therapy from Touro College 2010. He was honored with an Academic Excellence Award, as well as a Research Achievement Award in recognition of his exemplary performance during the program. During his clinical education, Dr. Muñoz experienced a variety of settings, including Bellevue Hospital inpatient rehab, Mount Sinai inpatient neurological rehab and various manually focused outpatient physical therapy clinics in New York City. Shortly after graduating, Dr. Muñoz started his own physical therapy and personal training company, Integrated PT2. Dr. Muñoz is committed to furthering his knowledge and has attended a variety of continuing education courses from different organizations including but not limited to NAIOMT, IPA, Discover Physio, Strong First, NSCA, NASM, OMEGA Institute, TRX And Functional Anatomy Seminars. Dr. Muñoz is also a Board-Certified Clinical Specialist in Orthopaedic Physical Therapy (OCS).
During his career, Dr. Munoz has served a varied client/patient base, ranging from healthy adults looking to improve their fitness, treating various musculoskeletal injuries, to working with older adults with complex medical conditions. Over the years, Dr. Muñoz has conducted fitness workshops, provided wellness consulting to corporations, managed a bustling outpatient physical therapy clinic all while working along side of some of NYC's most sought after physical therapists and trainers. Dr. Muñoz lives an active life and has immersed himself into different movement practices including strength training and conditioning, yoga, pilates, biking, running, crossfit, kettlebells, and most recently Brazilian Jiu-Jitsu at Renzo Gracie Academy. Being exposed to various forms of exercise and activity has enhanced his understanding of his clients and patients experiences. Today, he continues to treat and train throughout Manhattan and Long Island City.
Dr. Muñoz now combines his fitness expertise along with his extensive clinical knowledge to effectively optimize the health of his clients and patients. His eclectic treatment approach combines a thorough musculoskeletal assessment followed by various manual techniques, patient-specific therapeutic exercise, and constant patient education. Dr. Muñoz continues to be in awe of the interconnected nature of the human body's many systems which drives his holistic approach. His personal belief is that physical activity is a large component of maintaining long-term health and wellness. He is passionate about guiding his patients and is committed to educating them on the importance of sustaining an active lifestyle.
Associations and Organizations that Inspire Us